:: introduction ::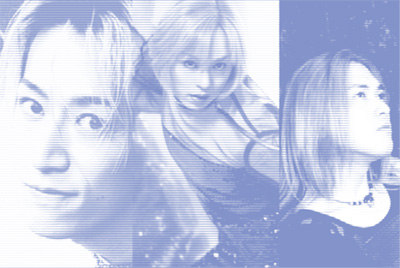 Shazna was formed in 93.7 as Indies, and joined BMG Japan in 97.8(now TOSHIBA-EMI). It is formed by Izam the vocal, A.O.I. the guitarist, and NIY the bass. The majority of talking point about Shazna is focused on the outlook and behaviour of Izam. Being a 180 cm tall guy, he acts and looks completely like a girl!
Their songs are mainly poppish and upbeat, with some good ballads too. Some people may not like IZAM's voice because sometimes he raises his voice too much, but I think it's pretty cool. They were a great success in 97 and 98, but since then (after going to TOSHIBA-EMI) they have been looking for some breakthroughs to come. Now they have been idle for more than 2 years, since their last release "OLDIES" in 00.1.1.
:: SHAZNA news flash ::
20020104
while there is still no sign that SHAZNA will break the silence, IZAM had his first solo live in 01.11.17. For more information please check out his personal site. He also setup his official fan club "~Dolis~" in 01.12.24. Also, IZAM, A.O.I and NIY changed their management office to OFFICE TOUCH, hopefully that means they will restart their SHAZNA activities soon!